Emmanuel Rolland,
Gardening at school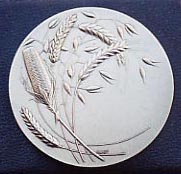 Medal of the Ministry for Agriculture 1996

A wonderful system for the home garden. This small simple method lets me grow young plants successfully, including: tomatoes, pumpkins, cabbages, lettuces and herbs.
I am also able to grow fruit and nut trees e.g. apples, peaches, plums, chestnut, hazelnut and oak.
A chestnut replanted on the 24th of June 1992 grew 66 cms during 1993.
I shall explain how to make the planting system from an empty plastic bottle, how to make a small watering can from another plastic water bottle and how to make a trap for slugs and snails so that they cannot damage your hard work in the garden.

The plastic planting container
Cut the empty plastic water bottle 1/5th up from the bottom.
You can use pruning scissors or a metal-cutting saw.
NB. Be careful not to cut yourself. It would be a good idea to practise cutting plastic bottles until you have a good technique.
Turn the top of the bottle upside down and insert it into the bottom of the bottle.

All the different layers in the planting container
Leave a space at the top to provide a greenhouse effect. Water the plant from the top.

Fine gravel: Cover the seeds or young seedling to a thickness of 1 cm. This lets the water pass and stops the seeds from drying out.

The seed: or young seeding: Place the seed or seedling on top of the soil mixture.

The soil mixture: Mix equal quantities of compost, topsoil and sand.

Top of the bottle: The top of the bottle is upside down to allow an overflow for the water so that plants do not perish from over-watering.

The paper stopper: Use a ball of paper as a cork in the opening of the bottle. It will stop the soil mixture escaping into the water.

The water will be absorbed by the soil mixture to feed the seed or seedling.

Using two bottles of 5 liters, Mega-system is very powerful.

Stopper.

Kloŝo : to use closed for cuttings stufitaj.

Plant.

Empty part : space taken by the plant.

Fine gravels.

Substrate.

Furrow obtained by pressure.

Opening of filling and too full, obtained by pressure on the second bottle.

Both labels.

Lastly water.
| | |
| --- | --- |
| | The pressure practiseda by the inches creates a chute and makes narrower the high part. It is encased more easily in the low part. |